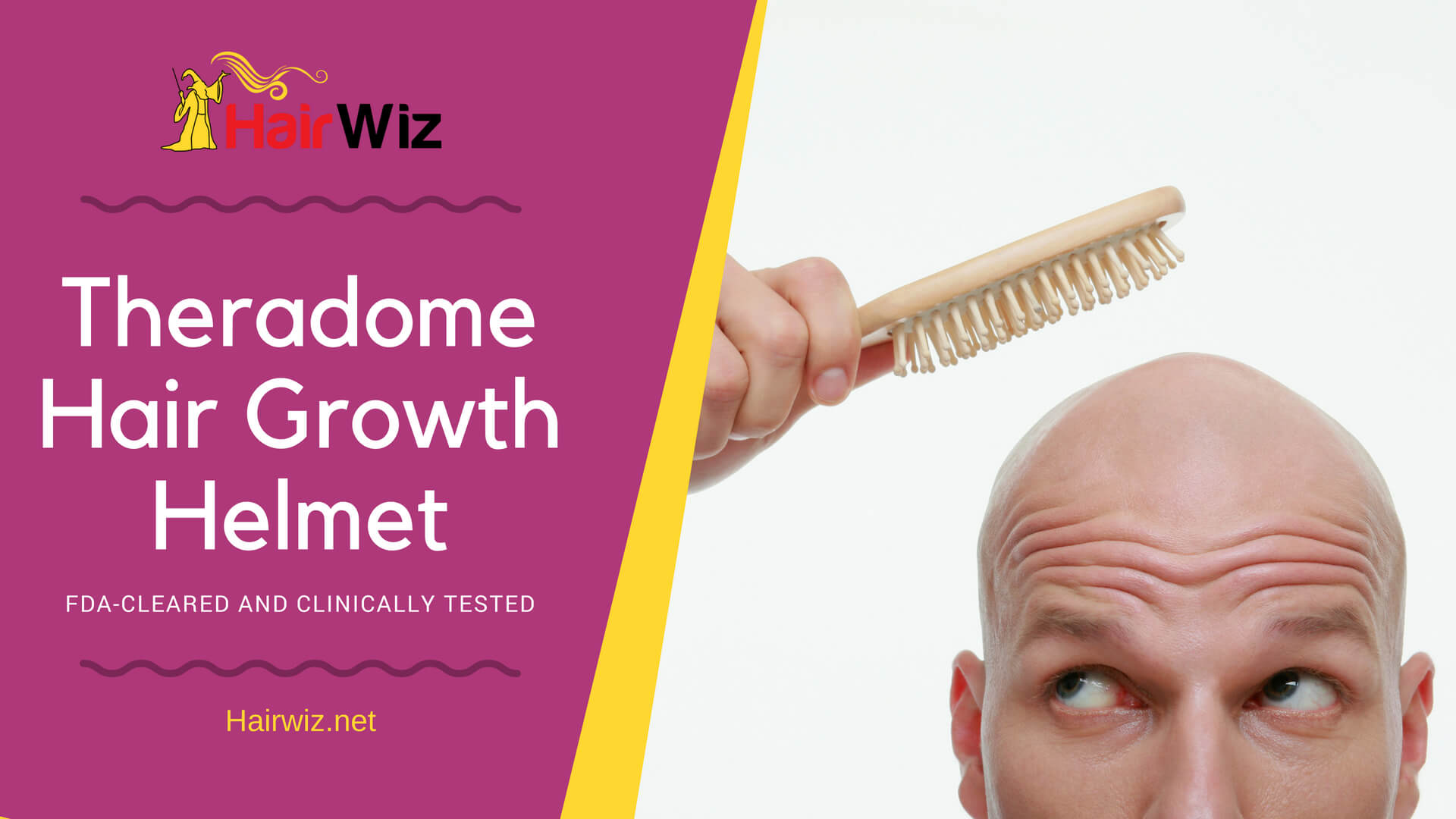 Hair loss associated with baldness has always been called a "man's disease" because it affects 70% of men at any time in their life. While male pattern baldness, otherwise known as androgenic alopecia, has been proven to be effectively treatable by laser therapy, these treatments leave you losing money along with your hair.
Aside from the cost, it involves multiple visits to the clinic and several uncomfortable sessions with the doctor. But believe it or not, laser therapy can now be done at home – effortless and cheap – with the Theradome Laser Hair Growth Helmet.
What is the Theradome Laser Hair Growth Helmet?
Invented by a renowed NASA scientist, the Theradome Laser Hair Growth Helmet looks like a simple bicycle helmet but gives you the most complex laser treatment equal to those you get at medical clinics.
It makes use of Low Level Laser Light Theraphy (LLLT) to restore and grow stronger hair. Through the use of 80 proprietary lasers, light waves are emitted in synchronization to reach all the problem areas in your scalp to get the ideal level of hair rejuvenation.
The best thing about the Theradome Helmet? It's hands-free and can be used in the comfort of your own home. With only 20-minute sessions two times a week, hair growth can be seen in as early as 4 months. Because of the revolutionary technology used in the Theradome Helmet, it's not hard to see why it has soared to the top of customer reviews.
---
Here are some of its features:
1. Stimulates Hair Follicles to Promote Hair Growth
Through the use of 80 coherent low level lasers, the Theradome Helmet targets the base of the hair follicles to restore hair to a healthier state. This process is called PhotoBioStimulation. Similar to photosynthesis in plants, this process carries energy to the cells in your scalp to promote hair growth, giving you longer and thicker hair.
2. Increases Blood Circulation in the Scalp
Another significant effect of PhotoBioStimulation is the improvement of microcirculation and cellular metabolism in the scalp area. This means that blood flows easier into the scalp so that the hair thinning process is reversed and hair grows healthier. Because of the increased blood flow, this has often been called the "Vampire Treatment."
3. Effectively Decreases DHT
DHT is an enzyme whose presence in the scalp is one of the major causes of hair loss because it stops protein from reaching the hair follicles. The Theradome Helmet effectively acts as your own personal DHT blocker to give you thicker hair.
4. Maximum Comfort and Results
The Theradome Helmet combines comfort with therapy. It one of the first hands-free and home devices that completely rejuvenates hair and gives strong therapeutic effects to improve hair density.


FDA-cleared and clinically tested, making it one of the most reliable treatments on the market today
Maximum scalp coverage, because it is specially designed to reach all affected areas
Maximum comfort – the Theradome Helmet is designed with a universal fit that you can adjust depending on your personal preference
Easy to use – comes with a simple user interface, timed treatments and a voice guidance system
hands-free, cordless, and multi-language capable
portable and lightweight
cost efficient
The Theradome Helmet is best used to prevent further hair loss, but cannot completely restore hair in cases of extreme hair loss
Results may differ depending on personal circumstances like gender and age
Several users have complained about difficulty in establishing a charging connection and the length of time required to charge the device
Who Is it Good For?
The Theradome Laser Hair Growth Helmet is the best fix for any one who wants to get the best results with the most minimum effort. It is a portable and lightweight device, so that you can enjoy the nourishing treatment anywhere and at any time. The Theradome Helmet is ideal for both men and women and it targets damaged hair strands by helping them regain their natural strength and vitality. Because it is FDA-approved, it is highly recommended for those with sensitive skin.
The Bottom Line
Forget about the hassle of having to constantly go to medical clinics. With just a click of a button, the Theradome Laser Hair Growth Helmet gives you the best most effective laser therapy treatment to give you the full and healthy head of hair you've always wanted.


Shop for Related Products from Amazon